Is the Jeep Wrangler 4xe Off-Road Capable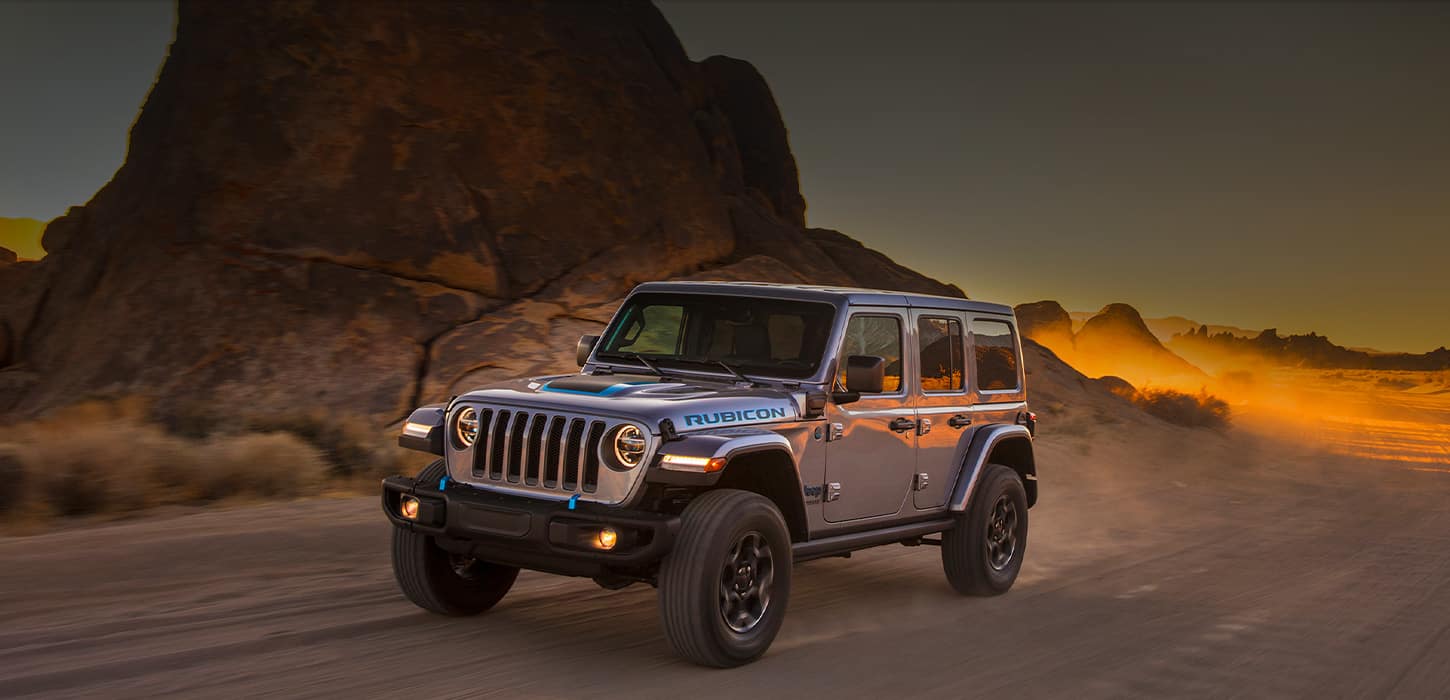 Is the Jeep Wrangler 4xe Off-Road Capable
The 2021 Wrangler 4xe is forging a new path to the future with legendary capability and open-air freedom the Jeep Brand is known for. But can an electric vehicle complete with a traditional Wrangler? Let's find out!
What size is the battery comes in the 2021 Wrangler 4xe?
The
Wrangler 4xe
offers an impressive 2.0L I4 DOHC direct-injection Turbo PHEV engine. Plus, a 16-kWh lithium-ion battery pack, regenerative brake booster, and an eight-speed automatic transmission all working together to send outstanding amounts of power and torque to each wheel, maximizing the capability of every component. The Wrangler 4xe will climb over tricky obstacles and go from 0 to 60 mph in just 6 seconds. The plug-in hybrid turbocharged engine delivers an impressive 375 horsepower and 470 pound-feet of instant torque for a heart-pounding performance on and off-road.
Can the Wrangler 4xe drive through water?
The 4xe comes with a sealed and waterproof battery pack to protect the electronics and allow it to travel through the toughest conditions, such as a stream of up to 30-inch deep.
Is there an available electronically-disconnecting sway bar on the 4xe?
Jeep gave the Wrangler 4xe front and rear Dana 44 axles, a two-speed transfer case that enables full-time four-wheel drive, several skid plates, and 10.8 inches of ground clearance. If you opt for the Rubicon, you will gain an electronically-disconnecting sway bar, a shorter final drive ratio, and bigger off-road tires.
Does the Wrangler 4xe have regenerative braking?
The Jeep design team was truly thinking when they made the 4xe. Not only does it come with regenerative braking technology. Jeep made the four-wheel-drive system able to recover energy and help recharge the battery. Plus, with the 4xe's Max Regen feature, drivers can one-pedal drive.
Browning Dodge has your next 2021 Jeep Wrangler 4xe!
If you would like to test drive the all-new 2021 Wrangler 4xe in the Norco, California area, head over to Browning Dodge! We have plenty of them in stock and ready for you to take them home! Browning Dodge's staff is knowledgeable and offers many years of experience satisfying our customers' needs. Come on in and take a test drive! We're proud to be a Chrysler, Dodge, Jeep & Ram dealer serving Ontario, Riverside & Corona.